Villagio San Clemente Ocean View Homes
Posted by Sam Smith on Tuesday, October 18th, 2022 at 1:53pm.
If you are in the market for an ocean view home at attractive price points in San Clemente then is a community in the Rancho San Clemente area that is worth a look. The community is called Villagio which offers many two story Mediterranean style homes that are located within a short 5 to 7 minuted drive down to the Ole Hanson State Beach area depending on traffic. What I love about this community is that is has historically offered some of the best real estate values for single family homes throughout all of San Clemente. It's important to note that there are only a few select properties in this community that will offer nice ocean views and they typically will command a premium in price. A perfect example of this is a new listing that just came on the market that offer really nice ocean views as pictured below. It features a total of three bedrooms, three baths with an approximate 1,831 square feet of living space. This particular home was originally built in 1985 and is currently on the market for sale at $999,000.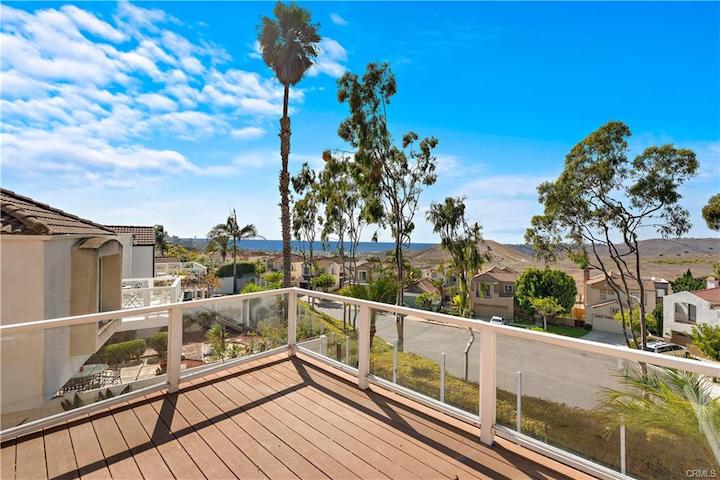 Real Estate prices in the Villagio community have ranged between the low $800,000 to the low $1,100,000 range in recent years. The range in pricing depends on a lot of factors like the location where the home is located, does it have any kind of a view, size of the home and the overall condition of the property. We have put together the last 25 sales in this community in the sales chart below to help determine the value of any given home in Villagio. This is especially helpful for sellers who are thinking bout selling in this community and want to know prior sales history as well as home buyers trying to figure out if any given property is a good deal or not. Please keep in mind that the year 2021 was a record year for home sales and with the rise of interest rates we are starting to see the beginning of real estate prices softening in a lot of communities throughout San Clemente. It's still a great time to buy as long as you can get the seller to buy down the mortgage interest rate and also secure a great price as well. For questions regarding buying in this community please contact our local San Clemente Real Estate agents at 949-204-5110.
Search Results
No listings were found matching your search criteria.
Leave a Comment