San Clemente Ocean View Homes On Avenida Salvador
Posted by Sam Smith on Tuesday, March 19th, 2013 at 2:51pm.
San Clemente has many ocean view streets but there is no comparison of the views you get from the street known as "Avenida Salvador."  Avenida Salvador is located at the top of the hill side ridge that overlooks the city of San Clemente and has panoramic and direct views of the Pacific Ocean and the San Clemente Pier.  Many of the homes also have coastline views which truly are spectacular to view.  The area is sometimes referred to as "Salvador Hill" based on it's hill side location.

One quick tip when looking for a home on this street.  Homes with an "even" house number will be located on the ocean front side of the street.  Homes with an "odd" house number will be on the non-ocean side of the street.  This is the quick and easy way to determine the amount of view and the price ranges will reflect this as well.  The Avenida Salvador street does wind around so some homes on the non-ocean side will have nice ocean views as well.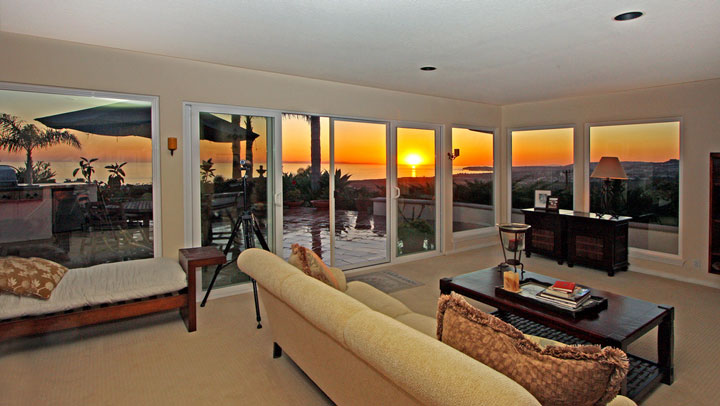 Price ranges for a good view on this street will typically start above the $1 million dollar mark and above.  The homes have dramatic views of the ocean so for those looking for a spectacular ocean view home should definetly see homes on this street.  For more information about homes in the San Clemente area make sure to contact Sam Smith, the San Clemente expert at 949-291-0424 today.
Search Results
2 Properties Found. Showing Page 1 of 1
San Clemente 917 Avenida Salvador
Priced to sell! Come experience this complete renovation by local builder CH Anderson Construction. You will appreciate the innovation and level of detail both on the interior and exterior. Light, bright and white, you will feel refreshed the moment you walk in. This home sits perfectly on Avenida Salvador, backing up to the serene canyon with no freeway noise but also positioned with breathtaking south facing ocean views from the backyard. You will also enjoy ocean views from all four bedroo...$1,495,000
$1,495,000
4 Beds
4 Baths
2,352 SqFt
93 Days On Market
San Clemente 937 Avenida Salvador
Ideally situated on one of the largest level lots available to allow the visionary buyer an opportunity to increase the current home footprint and design a custom home with a second story main living space that can capture up to a 270 degree ocean views - Trestles and the Pendleton coast line southward views & San Clemente Island views right in front of you - don't miss this opportunity for San Clemente Ocean View ownership - this home is being sold by the original family from 1965 - perche...$1,059,000
$1,059,000
4 Beds
2 Baths
1,740 SqFt
21 Days On Market
Leave a Comment