San Clemente New Construction Opportunities For 2022
Posted by Sam Smith on Wednesday, December 22nd, 2021 at 1:42pm.
San Clemente has seen a very limited inventory of homes for the year 2021 with a small number of new homes being built for re-sale. There are still some great opportunities out there if you know where to look. One of these opportunities is a new construction listing located at 1205 Via La Mesa which is scheduled to become between a 4,200 to 4,500 square foot home with a total of 5 bedrooms and 5 baths. If you are family with the street Via La Mesa then you know it's located on the east side of the 5 freeway and is being advertised as offering ocean and coastline views. It's reported that a prominent builder will be in charge of building this modern architectural style home with quality craftsmanship. The nice thing about this project is that the buyer may have the ability to choose certain features and designs if it's early enough into the building process. It's currently listed at $2,999,000 and schedule to officially come on the market on March 01, 2022.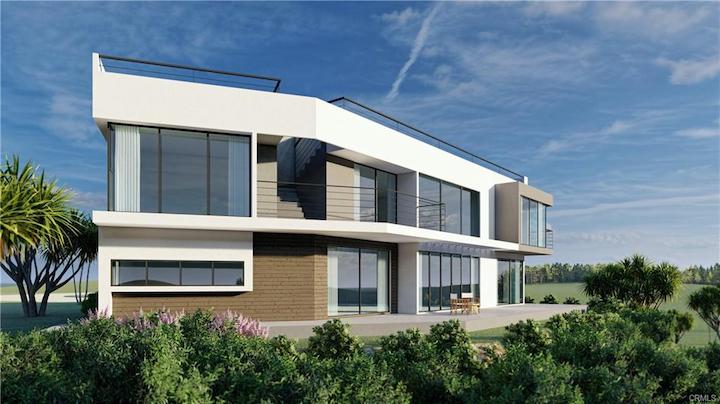 We expect to see more listings coming on the market after the first of the year when the San Clemente Real Estate market typically picks up a lot of speed. We are finding that a lot of home buyers are looking for turnkey properties that require little upgrading which makes new construction homes very appealing. San Clemente has a total of 9 different neighborhoods that offer their own unique price points and style of homes so we recommend talking with a local agent who understands the nuances of each of these areas. For example, buyers looking for newer style homes will often choose the Talega area since many of the homes have been built within the last 20 years. We have gathered the recent new construction home sales below to show what has sold in the last 365 days. For more information on buying a home in San Clemente please contact our local agents at 949-204-5110 today.

Search Results
7 Properties Found. Showing Page 1 of 1
San Clemente 230 W Avenida Valencia
This 2022 state of the art, exquisitely designed residence is unparalleled in quality of craftsmanship, among the finest of high quality coastal homes and located in the heartbeat of Southwest San Clemente. The luxurious, warm contemporary new build offers 3,853 sq.ft. of open concept living space and sits on an oversized lot boasting a pool sized backyard with a built in BBQ and cooking area and built in gas firepit. Open the intricately designed wood slat doors to a striking 23' tall front ...$4,999,999
$4,999,999
4 Beds
4 Baths
3,853 SqFt
161 Days On Market
San Clemente 209 W Avenida San Antonio
Delivering the finest in lifestyle and luxury, this showpiece residence transcends the ordinary with its sophisticated blend of modern design and coastal flair. Moments from San Clemente's best beaches, this new-construction home flaunts distinguished architecture with a polished façade donning stone and wood accents and a magazine-worthy landscape. A five-foot pivot entry door introduces the interior, which is accented by engineered hardwood floors, nine-foot ceilings with inlaid LED lights,...$4,599,000
$4,599,000
4 Beds
5 Baths
3,620 SqFt
17 Days On Market
San Clemente 205 W Avenida San Antonio
Every inch of this Southwest San Clemente residence has been carefully constructed to blend coastal charm with modern extravagance. Completed in the fall of 2022, this architectural masterpiece presents luxury interiors, ocean views, and coveted location minutes from Riviera Beach and Leslie Park. A modern 8-foot single-lite entry door reveals a well thought-out floor plan crowned by a huge rooftop deck that boasts formidable ocean and Catalina Island views. Coastal modern accents are on d...$4,299,000
$4,299,000
4 Beds
5 Baths
3,664 SqFt
17 Days On Market
San Clemente 132 Avenida De La Paz
Plans are being finalized for a contemporary four level architectural masterpiece utilizing light steel construction with plenty of open deck space and a sauna for a beautiful unobstructed ocean view in San Clemente that will allow you relax both inside and out. Additional customizations are possible, allowing for a design that is truly your own, estimated to be ready for move-in with current plans by early 2024. With panoramic ocean, Catalina, golf, and canyon views, this gorgeous lot is ide...$3,800,000
$3,800,000
5 Beds
5 Baths
5,013 SqFt
55 Days On Market
San Clemente 2483 S Ola Vista
Totally new construction, Now almost done. 2520 sq feet of pure luxury. 3 kitchen areas 1 on California roof top as well as outdoor entertainment area and of course in the home itself. Roof deck 771 sq feet, 728 Sq feet garage Covered patio areas 2 large water features one at master bedroom and one at entertainment area in front of living room. 7 to 10 feet ceilings solid wood flooring, tiles in bathrooms with marble on walls. This home designed and built with nothing saved anywhere. Oce...$3,690,888
$3,690,888
4 Beds
5 Baths
2,520 SqFt
49 Days On Market
San Clemente 505 Ardilla Lane
Stunning New Construction at the Coveted Southeast Municipal Golf Course in Beautiful San Clemente. Ocean Views abound from this elegant soft contemporary multi-level masterpiece featuring a casita with private entrance. Marvel at the designer appointed kitchen with porcelain counters and opulent great room with soaring ceiling and lanai doors opening to the sunny ocean view patio for your morning coffee. Multiple master bedrooms grace this home, offering discerning flexibility for the lu...$3,600,000
$3,600,000
4 Beds
6 Baths
4,000 SqFt
24 Days On Market
San Clemente 130 Avenida De La Paz
Plans are being finalized for a contemporary four level architectural masterpiece utilizing light steel construction with plenty of open deck space and a sauna for a beautiful unobstructed ocean view in San Clemente that will allow you relax both inside and out. Additional customizations are possible, allowing for a design that is truly your own, estimated for completion with current plans in early 2024. With panoramic ocean, Catalina, golf, and canyon views, this gorgeous lot is ideal for th...$3,500,000
$3,500,000
5 Beds
5 Baths
4,372 SqFt
55 Days On Market
Leave a Comment