San Clemente Walking Trails
Posted by Sam Smith on Thursday, August 29th, 2013 at 4:52pm.
San Clemente has many great walking trails but one of the best is the walking trail the runs parallel with the Pacific and has some of the most beautiful and spectacular views.  The trail is a result of many years of planning and was recently opened to the public in 2008.  The trail is open for those who enjoy walking, biking and dog walking.  The trail starts at the North Beach area as pictured below.  This is right next to the Ole Hanson Beach Club and train station.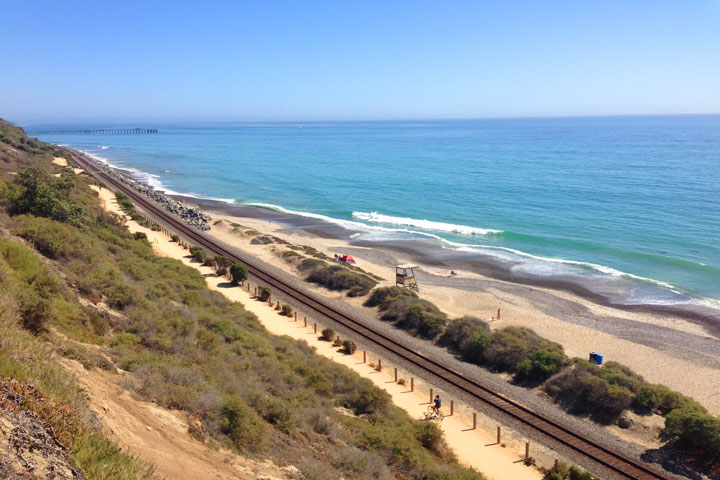 The trail continues through North Beach and winds around the canyon area.  In parts of this section there is very little beach available so the planners had to build a man made bridge to accomdate those using the path.  The bridge (as pictured below) runs parrell with the railroad tracks and the ocean.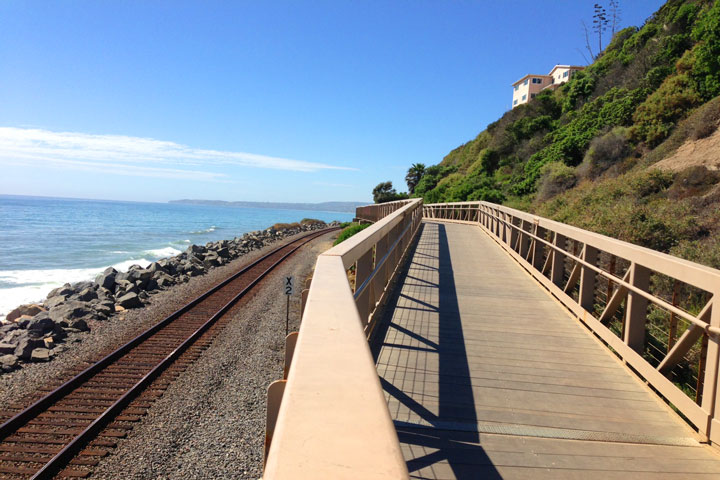 Near the street known as "Escalones" the bridge continues southward heading towards the San Clemente Pier as pictured below.  The path will continue to the San Clemente Pier and it's an approximate 20 minute walk from the beginning of the North Beach location to the Pier.  This is a great vantage point to enjoy the great surfing and views of the Pier from here.
As you pass the San Clemente pier the trail continues south and passes "T-Street" beach as pictured below.  During the summer months you will have great refreshment stands that will be open to grab a quick ice cream or cool drink.  The trail goes under the T-Street walk way and continues towards Riviera Beach at this location.  These are some of the most popular surf spots in the Southwest San Clemente and on a good day you will see lot of surfers in the water.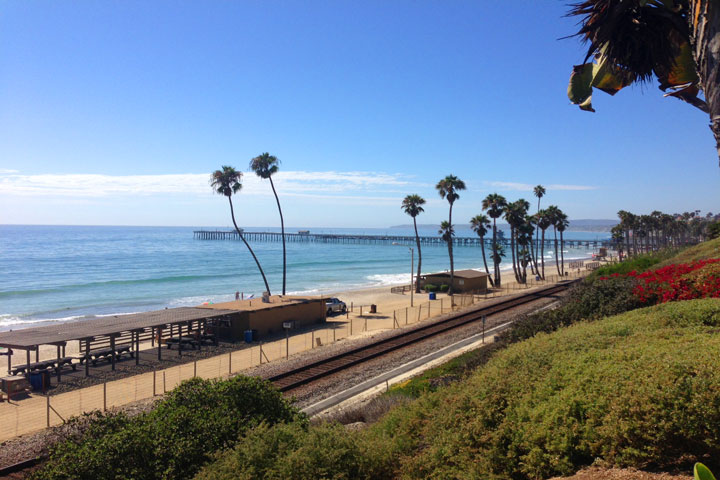 As you pass Riviera beach you continue south towards Calafia State Beach.  The path goes along the majestic cliffs as pictured below.  These cliffs are home to large estate home and ocean front condos near the State Beach area.
As you continue south you will finally arrive at the State Beach parking area.  This is the end of the walking trail which is approximately 20-25 minutes from the San Clemente Pier.   Over all most people can take a brisk walk from one end to the other in about 1 hour.  This time frame may depend on how you walk but is a good rule of thumb.  Dogs are allowed on the trail but must be on a close leash but are not allowed to walk on the beach.  Many use the trails to ride their bikes and jog so keep this in mind as you use the trail.  This has really connected many areas of San Clemente and made this a true beach town to enjoy!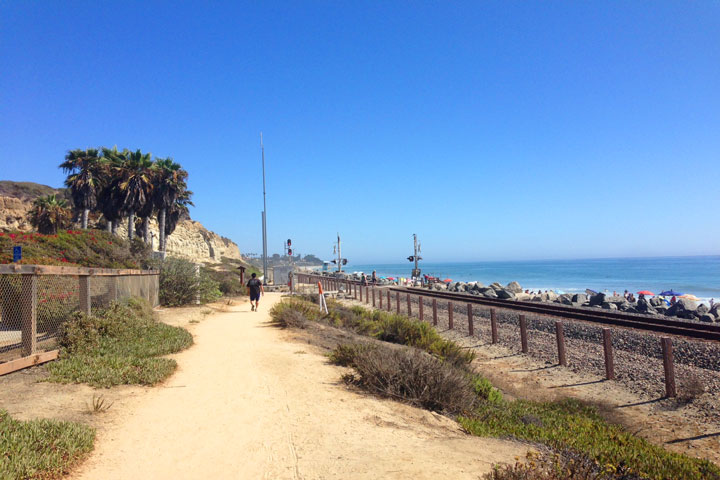 Leave a Comment