Marblehead San Clemente Rentals
Posted by Sam Smith on Wednesday, August 4th, 2021 at 3:21pm.
One of the more popular places to look for rental homes in San Clemente is the Marblehead area. The community has expanded greatly in the last several years with the additional of the newer Sea Summit community. Originally the Marblehead community consisted of homes located on the east side of the 5 freeway located in a secure gated community with a number of neighborhoods to choose from. There were also a couple condo tracts that were located just outside this gated community which formed the Marblehead area. Then back in 2015 everything changed with the construction of brand new homes in four different neighborhoods located on the west (ocean) side of the 5 freeway. This community is commonly known as Sea Summit and has become on the hottest neighborhoods in San Clemente right now.
One of the advantages of renting here is getting access to all of the amenities within this neighborhood without paying for any of the homeowners association dues. In California, it's pretty typical in a rental situation for the landlord/owner to pay all HOA dues which is a huge benefit. Also, the newer homes often have an added Mello Roos fee that the owner has to pay on top of the HOA dues so it can get expensive if you do own a property here. Rentals here are typically 12 month leases with the first month, security deposit and rental credit check fee required to move-in. Each property is different so please check with your local real estate agents on the exact cost breakdown. We have provided a rental sales chart for previous properties that have leased out in the last year to give you a better idea on what homes and condos are renting out for. In this area it's not uncommon to rent out a two bedroom condo for under $3,000 a month and single family homes for $3,500 and up. For up to date rental sales information please contact our local real estate agents at 949-204-5110 today.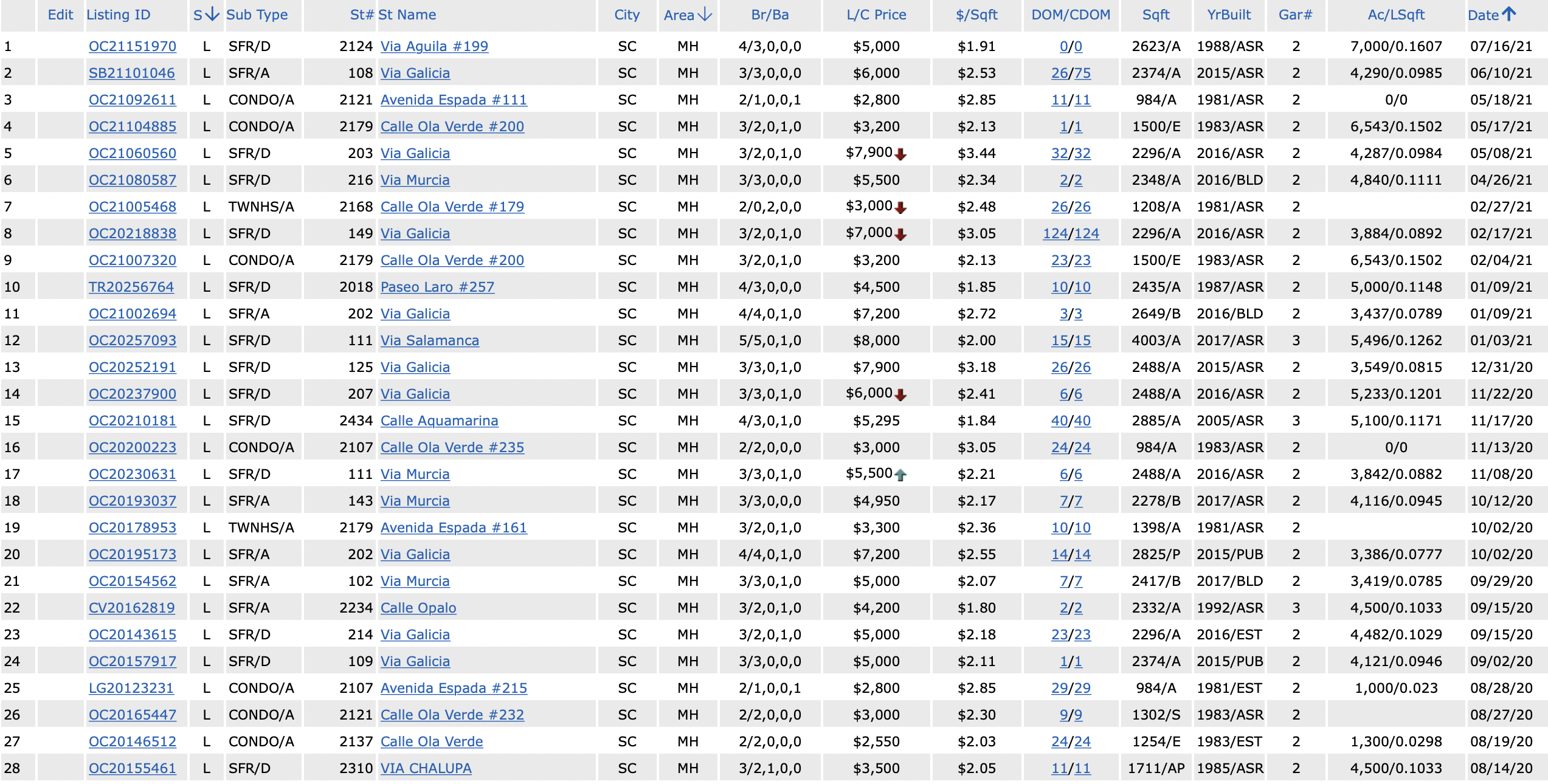 Search Results
5 Properties Found. Showing Page 1 of 1
Leave a Comment