Cotton Point Vacant Land
Posted by Sam Smith on Thursday, August 22nd, 2013 at 4:09pm.
The exclusive gated community of Cotton's Point in San Clemente has seen it's last parcel of vacant land finally under construction.  The lot at 4065 Calle Isabella is the 2nd house on the east side of the street was the last remaining piece of vacant land left in this community.  In 2012 the lot was purchased for $2,100,000 according to our title records.  The large lot is nearly an acre with 34,412 square feet.  Since 1997 these lots have been selling in this community with three residentail home sales in the last two years.  The homes that sold average between $535 to $675 per square foot with prices ranging from $3,750,000 for a bank owned property to $6,100,000 for a 10,728 square foot home that sold in 12/31/2012. The building of this home will be the 15th home to reside in this community.
The Cotton Point community has it's own private association and guard gate as pictured below.  Residents also have a private beach access that resides just north of the former Nixon Estate.  Currently there is one property offered for sale at $10,500,000 which works out to be $1,220 per square foot.  The 8,600 square foot home offers a large 43,000 square foot lot with luxury pool and ocean views.  The home was built by a commercial builder and exhibits well built and detailed construction for a residential property.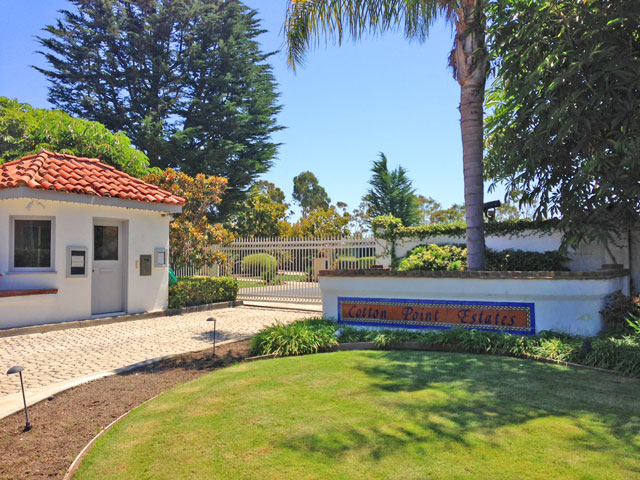 If you are considering buying vacant land in the Southwest San Clemente area there are still some great opportunities.  First, the gated community known as "La Ladera" is a beach front neighborhood that currently has two ocean view lots for sale for $1,799,000.  You will also find a bluff front lot offered for sale for $1,985,000 on "Avenida Valencia" street and a rare lot in the 200 block of "Paseo De Cristobal" for $949,000.  More consumers are turning to building their own custom home with the shortage of housing and the Southwest area provides quality of life and a great return on investment for years to come.  Below are the current lots for sale in Southwest San Clemente.
Search Results
No listings were found matching your search criteria.
Leave a Comment