New Construction Boom at Capistrano Shores, San Clemente
Posted by Sam Smith on Wednesday, February 27th, 2013 at 1:25pm.
There is a a huge construction boom happening in the ocean front community called "Capistrano Shores."  The community was well established as a mobile home park for many years.  The homes were on lease land with the average monthly cost to lease that land was around $2,500 a month.  In 2008, all of this changed.  The 90 residents within the Capistrano Shores community bought the land for an estimated $100 million dollars which instantly caused the real estate values to jump from an average $750,000 mobile home to now nearly $2 million dollars.
What is happening in the community is a construction boom where old existing mobile homes are being torn down and replaced with large two story residences.  The homes are keeping their original foot print of the mobile home with a metal base that is commonly used when installing a mobile home on to a lot.  What's different is that residents are now building on to that base with new construction that you would see in any traditional home with no resemblance to a mobile home.  The community truly has done a 180 in transforming itself from a quiet ocean front mobile home park to a thriving and desirable oceanfront community.  Prices are still relatively low when compared to the neighboring beach front homes located on Beach Road in Dana Point which start at $2.5 million dollars and up.  Capistrano Shores homes are currently priced right around the $2 million dollar price point with 8 homes currently on the market.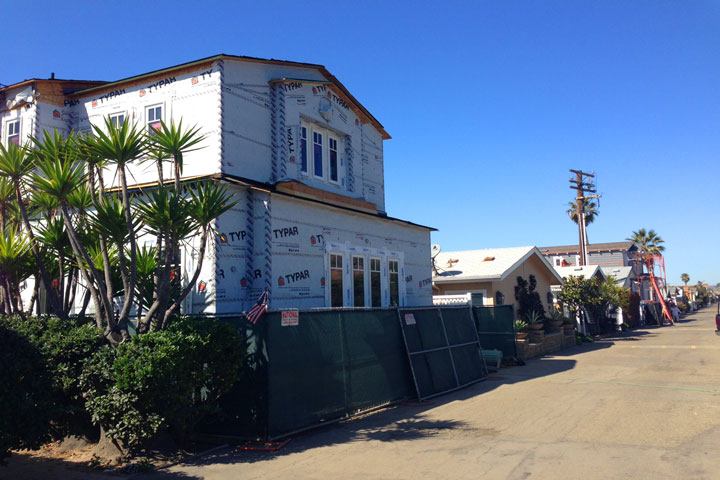 With these new real estate values residents are quickly tearing down their existing home for the opportunity to build larger two story custom homes.  A quick drive down this cul-de-sac street of 90 homes you will find multiple properties currently under construction.  You will also find many contractors and builders a plentiful in this community now as the demand the build a larger home is in high demand.  The true test will be to see multiple sales in this new price range.  In 2010, we saw the property located at 1880 N El Camino Real #40 sell for a record $2 million dollars.  Since the properties are no longer mobile or manufactured homes new home sales are taxed at the standard 1.1% sales tax.  The large majority of the value is in the land with little value for the existing manufactured home.  The $800 association fee does include water, trash, sewer, current taxes, management and maintenance of the exterior grounds.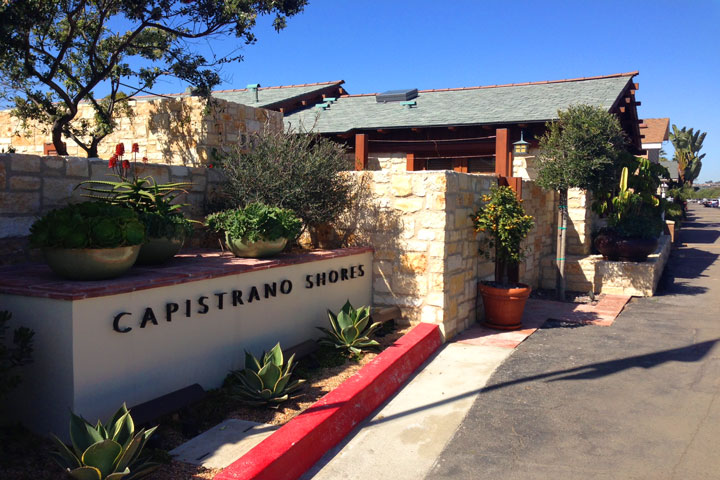 The community is located on the very north side of town next to the Ole Hanson pool club and the San Clemente north train station.  The community is not gated and a simple drive over the rail road tracks gains entry into this community.  Upon the entrance you will find the manager's office for the Capistrano Shores that is very friendly and helpful with any questions you may have.  The views from these homes is truly awe inspiring and probably the closest to the water than any other community in Southern California.  One concern during big waves is the water crashing on to the back of your home.  Many residents have installed roll up window guards to protect their homes while away and during heavy storms.  The other concern in this community is the Coastal commission that regulates building near the ocean.  So far the coastal commission has not intervened into the building that is currently going on in the community but a heavy disclosure is given to all potential buyers that the coastal commission may come in with restrictions even after the new home has been built.
San Clemente is home to other ocean front communities like Cyprus Shore, Riviera District and La Ladera.  home prices in these communities usually will start at $4 to $5 million dollars for an oceanfront home.  If you are in the market to buy a beach front home in South Orange County we recommend visiting each of these communities as well as the Beach Road gated community in nearby Dana Point. We believe their is a lot of opportunity in the Capistrano Shores community and would love the opportunity to show you these great beach front homes. Please contact Sam at 949-291-0424 for a quick tour today.
Leave a Comment